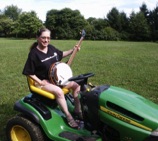 This site is the home of
Ledgin.com
BeyondYourCatsMeow.com
Alz-Aid.net
ConcertoToRemember.net
FiddlingWithWords.com
The menu above will guide you through the many facets of my career, past and present.
All content including photographs copyright Stephanie P. Ledgin 2016. All reproduction rights reserved.
Where have I been lately?
After the release of my last book in 2010, I got wrapped up in life, from dealing with my mom's Alzheimer's and her subsequent passing in late 2014, to extensive shoulder surgery six weeks later, as well as my simultaneous cancer diagnosis. Life sure can get "tedious/tejious," as Doc Watson liked to say, right?
But I'm back working hard at several projects, while continuing to heal and hopefully stay cancer-free, in spite of the prevailing verbiage that one is never cancer-free after having it. Look out; here I am ready to rock on.