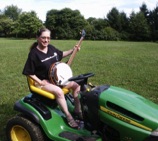 This site is the home of
Ledgin.com
BeyondYourCatsMeow.com
Alz-Aid.net
FiddlingWithWords.com
All content including photographs copyright Stephanie P. Ledgin 2016. All reproduction rights reserved.
Ms. Ledgin is available for speaking engagements and panel sessions about music as well as about dementia and "Preserving Memory through Music." She welcomes inquiries for a wide variety of writing projects, including liner notes for artist recordings. Her extensive photo library offers a four-decade selection of roots music images, sure to enhance historical recording packages and presentations.
LEDGIN @ LEDGIN.COM
908-735-7925
(10-5 Eastern)
PO Box 628 / Pittstown NJ 08867 / USA
ON DISPLAY INTO DECEMBER!
Three of my original FROM EVERY STAGE exhibition photos are currently on display at Paul Phillips Eye & Surgery Center, Flemington NJ, along with a variety of art pieces from 2-3 dozen other local artists. You are invited to stop in during any business hours and wander the hallways. All works are up for sale, mine at greatly reduced prices. Visit my "Photos for Sale" page (link above) to view my work and availability. Many are rare images, most with historic value. These photos have been discounted up to 75% off the original selling price. Virtually all are being offered BELOW COST; all were professionally custom-printed and many are custom-framed under UV glass, museum quality. Drop me a line for more details! Thanks.