This site is the home of
Ledgin.com
BeyondYourCatsMeow.com
Alz-Aid.net
FiddlingWithWords.com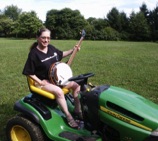 All content including photographs copyright Stephanie P. Ledgin 2016. All reproduction rights reserved.
Ms. Ledgin is available for speaking engagements and panel sessions about music as well as about dementia and "Preserving Memory through Music." She welcomes inquiries for a wide variety of writing projects, including liner notes for artist recordings. Her extensive photo library offers a four-decade selection of roots music images, sure to enhance historical recording packages and presentations.
LEDGIN @ LEDGIN.COM
908-735-7925
(10-5 Eastern)
PO Box 628 / Pittstown NJ 08867 / USA
PICTURE THIS! PHOTO EXHIBIT, JAN. 7-28, 2018
Encore pickin' party, 1/28, 1-4pm
PICTURE THIS: AMERICA'S ROOTS MUSIC, featuring the work of internationally recognized photojournalist-author Stephanie P. Ledgin, will end its run to the tune of an encore pickin' party at the Farmstead Arts Center, Sunday, January 28, 2018, 1-4pm. Musicians are invited to bring acoustic instruments and jam! This exhibition will be the final one for Ms. Ledgin, who will close the chapter on her photography efforts and continue work on her forthcoming books. Admission is free. The Center is on the grounds of the historic Kennedy Martin Stelle Farmstead, 450 King George Road, Basking Ridge, NJ, one-half mile off Interstate 78 exit 36. (No mics, amps, electric instruments permitted; tuned grand piano on site!)
From Carnegie Hall to the Grand Ole Opry, the images document onstage performances and unguarded backstage moments. Viewers will "hear" through the lens the sounds of folk, blues, Cajun, bluegrass, Celtic, country music, and more, captured in facial expressions, postures, and body language of musicians and dancers. This exhibit, derived from Ledgin's second book, From Every Stage: Images of America's Roots Music, originated in 2005 at Nashville's Country Music Hall of Fame & Museum and continued at Lincoln Center, among other prestigious spaces. This will be the final showing and sale offering for this array of photographs. Details at "Photos for Sale" link (above).
Picture This: America's Roots Music will run January 7-28. Gallery hours are Sundays 1-4pm (except January 14), Monday through Wednesdays 10am-1pm, or by appointment. Admission is free. For more information or to purchase a photo, call the Farmstead, 908-636-7576, email admin@farmsteadarts.org, or visit http://farmsteadartscenter.org.